"When you appreciate the beauty and uniqueness of things, you receive energy." -James Redfield
The zen expression when the student is ready the teacher appears is generally how people perceive meeting a spiritual or zen teacher. A Course
in Miracles (ACIM) suggests, "When the teacher is ready the student appears." I resonate with how actress Ruby Dee's words of wisdom presents
an east meets west viewing point;  "We all are students of each other." Working with Machel in the nineties into the early millennium to this day transcends boundaries. She wholeheartedly understands the Chinese Proverb that; "Teachers open the door, but you must enter by yourself."
For example, sharing the mindful tools and zen drills, and watching her over time become the female superhero of her own story makes me beam with pure joy. And this is just the beginning of Machel unleashing her pure potential seeking manifestation.
I am honored and wonderstruck to be a part of Machel's evolution and witness her continuous growth. Some say, "don't judge a book by it's cover." With Machel, what you'll find is that what's soul deep on the inside is just as beautiful as the cover. Read on and see for yourself. And most importantly, let Machel inspire you to reach inward to be the superhero of your own story.
1. We're so looking forward to your new book, "Live, Love, Soul" and would love a sneak peek, what can you tell us now? LIVE LOVE SOUL comes from the deepest essence of my own spiritual journey. I track back to the beginning of my book how I find out that I am in 'search of happiness in the now' and not from ambitions or accomplishments. After making many dreams of mine come true–from becoming an International Face Model, An actress, I wondered why reaching these goals did not necessarily equate to inner happiness. This was over 20 years ago. In LIVE LOVE SOUL, I share my own struggles, wins and defeats, while also sharing exercises that have helped me achieve my own inner peace. I also interview seven individuals, including you :), that share with me how they have found inner peace and passion in the midst of their own personal journey. A couple of very famous and and another is a matchmaker that just co-founded a successful on-line dating site, an author that has traveled to Peru, Brazil and around the world looking for the 'happiness equation in civilizations' and a doctor with that is a running expert. All of these interviews will encourage and inspire the reader to find their own inner rhythm in life that can help them discover more happiness. There is nothing wrong with searching out joy and happiness. But we must first know what our 'inner-life' desires in our soul to know what CAN make us happy.
"For every challenge, the superhero's solution is to go inward." Deepak Chopra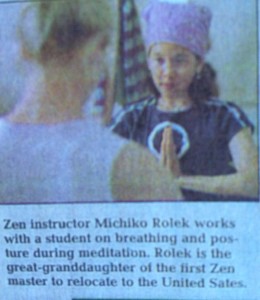 2.  I am honored to say that aside from Grace (daughter) no one has come as far as you Machel in terms of experiencing my inner work or (mental fitness -zen training) early on to taste the sweet fruit from the root of self discipline on a consistent basis.
Easter wisdom says that Zen is a living flower, a rose that last forever beginningless and endless-with petals that fall while new petals grow in a constant state of change. Yet at it's center, Zen never changes. What aspect of our inner work has stayed with you and is a touchstone?
 Three is a charm-so here they are:
1) I know without a doubt what that answer is. That what I feel is not who I am. Emotions are like water. They wash over us like waves from the ocean. So when I am sad or down, I have learned to reflect upon these feelings without being suppressed by them. I don't let my emotions control my life.
2) That I have the ability to center my thoughts from within my body. My body is part of my instrument that I can connect with my mind. I can keep my thoughts and feelings grounded, like a tree rooted to reality. MY body is connected to my core. And my core is the essence of my breath and center. I keep this with me every day. Even if I am not meditating daily, I am concentrating on my breath and making an effort to breathe deeper within my core.
3) To learn the value of non-attachment to places, people and things. In LIVE LOVE SOUL, I write about finding a balance with non attachment. Obviously, feelings of love and attachment to certain aspects of our life make us human and lovable. I am attached to my family and would be devastated if something happened to them. Yet, from doing inner work of exploring how life changes without warning, I have developed tools that have helped me to gain composure and gratitude during harder times. I have learned to be more present in the daily schedule that I live, while making small goals and being practical. I still dream with much imagination, but keep my feet rooted to the ground. I also work on my own shortcomings and try to practice more gratitude and love. I find that each chapter shows us a new miracle and lesson. So be open to both.
 3. What life lesson would you have shared with Machel on her enlightened journey of self discovery that you know now but didn't know in your twenties or thirties?
Two words- BE BRAVE. The real journey in life is much larger in scope than we can imagine when we leave home. Being brave and facing
fear during hard and scary times is the most important lesson I have ever learned. "This too Shall Pass."
When we are  younger, life feels like what we are experiencing NOW, may be a 'forever thing.' Only age and time can show us more chapter that can reveal that is not the case. In order to imagine the future you want to live in, you have to have the courage NOW to dream and to be brave with your current circumstances. Utilize your gifts. Being brave, means having 'courageous endurance.' You will need that to weather the good times and unsuspected valleys of life you cannot see or know they could be just around the corner.
After being brave, REMAIN POSITIVE. If you have negative thoughts, you can weed them out with positive affirmations. This is part of being brave. You must take action to empower your mind so win and triumph over whatever threatens to defeat your spirit. Just remember you are bigger than any circumstance that tries to take you down. So Be Brave and don't give up. Your future and your destiny depend on these two words during your youth.
 My soul signature question is ♥ how do you both nurture your soul? which brightens your spirit and actually find the time to actually do it?
I spend time with only those that bring love and support into my life. I have weeded out the surface friends that don't support my dreams. I exercise and spend time with my animals. I love my dog, Fortune and my kitties, Sophie and Lily. Never under estimate the love from your furbaby. They can turn your day around in a moment.
I enjoy small moments. I schedule them. I know what makes me happy and I make sure I add time for me away from my family and my work.
I read–a lot. Reading fiction and non-fiction books keep you grounded in the gift of imagination and teach you about other aspects, places and things you may not be experiencing right now in your own journey. Reading can reveal a part of your own soul you have not discovered but only do when you relate to a character in a book that reveals that part of who you are–TO YOU.
I practice gratitude and prayer. I pray daily in my thoughts and practice gratitude for all that I have, including if that  means a messy closet. What we have might be someone else's dream. So pray and practice gratitude.
How do I find time to do it?
I take a calendar and I schedule the time. I look at my week, my month and my year and I plan for moments of joy. I make them happen. Happiness is a place we can create. WE have to fight for our happiness. And sometimes that means making time in our schedule. So get busy with that calendar and schedule some time for your SOUL.  You deserve it.
–